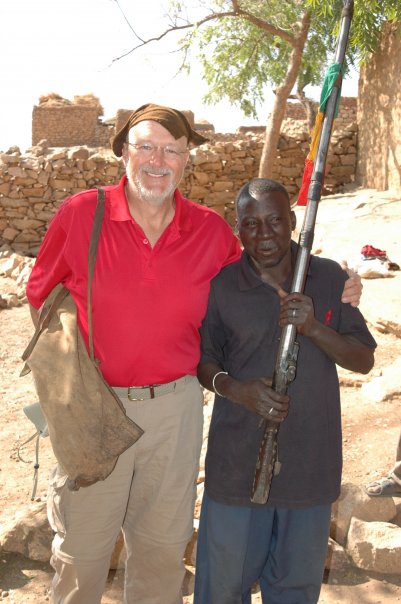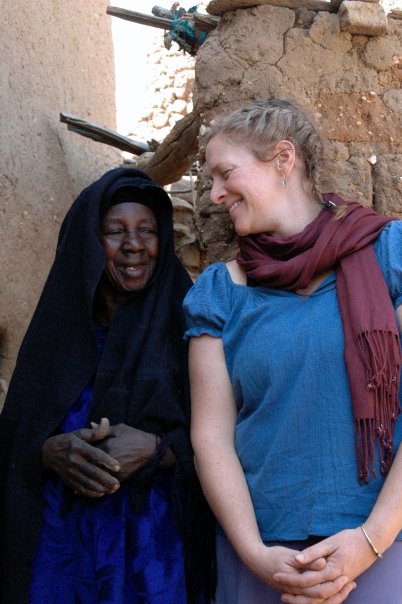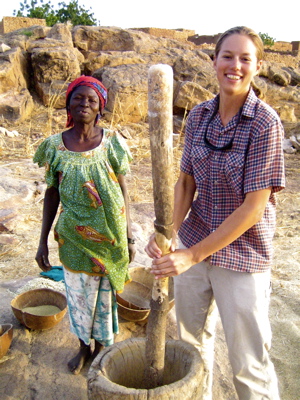 "We were allowed brilliant views into aspects of life in Kansongho. Welcomed by the entire community, we were also embraced as individuals and ushered into better understanding as the people of Kansongho share their own personal stories, shared their comforts, worked with us side by side, taught us their songs, celebrated great joys, and spoke of sorrow and hardships. I can only hope that both the differences and similarities of our cultures enhanced each other. We are indeed one people sharing far more than I ever imagined."
-- Julie, volunteer from Minnesota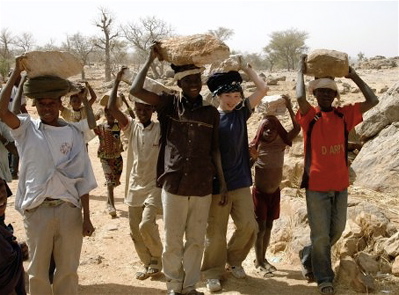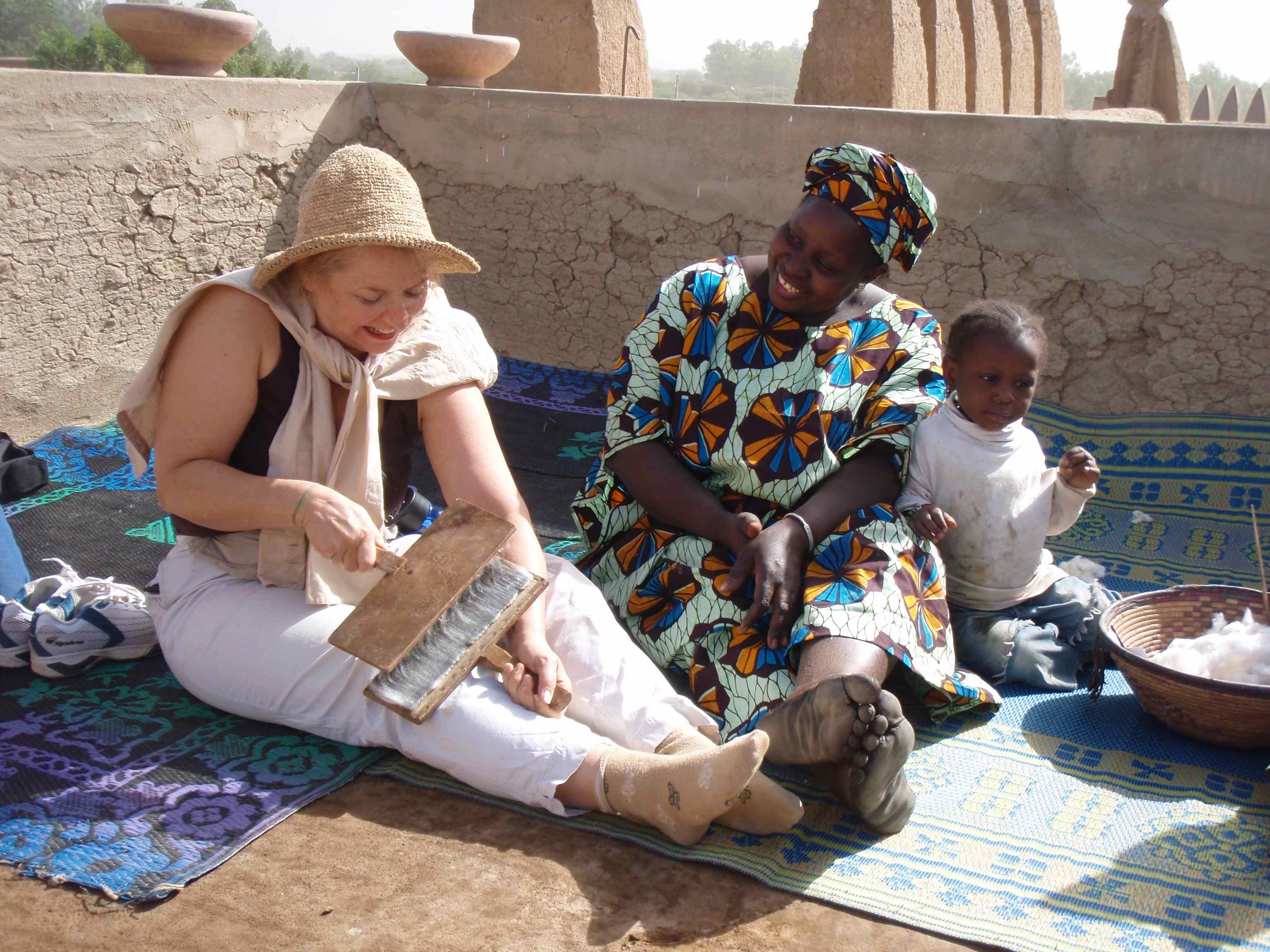 Mali Volunteer Venture Overview
The Tandana Foundation is looking for a small group of dedicated and open-minded people to join an excursion to Mali, where we will spend time working with a village on a project that the village in assembly has designated a priority. We are looking for volunteers willing to come get dirty with us, live in local villages, and be amazed at the generosity and hospitality of new friends. Before and after our work, we will be rewarded with a tour of Mali's spectacular and diverse countryside, meeting all kinds of people along the way, from fishermen to nomads, wood carvers to textile producers. This trip is an excellent opportunity to visit a remote, magnificent region, and simultaneously to give back by supporting local efforts.
What you may do on this trip:
Help a village build a grain bank
Participate in daily life alongside community members
Travel by pinasse on the Niger River and sleep under the stars
See the mosque at Djenne, the world's largest mud-brick structure
Learn about and experience local arts such as mudcloths (bogolan) and dance
Cost: $2600, does not include airfare to Bamako, Mali but includes all in-country transportation, food, lodging, and activities.

Sample Itinerary for Mali Volunteer Venture
Arrive in Bamako on an evening flight.

Sleep in, orientation, drive to Segou.

Drive to Djenne, see the market.

See Djenne's famous mosque, visit artisans, and make our own mudcloths, drive to Sevare.
Day 5
Drive to the village of Sal-Dimi, meet our hosts, and celebrate being together.
Days 6-10
Work with community memberss on the construction project. After work, relax with community members, drink Malian tea, and learn about local culture.
Day 11
Travel to the village of Kansongho, meet our friends there, and celebrate being together.
Day 12
In Kansongho, help the women build a latrine for their cotton bank. Visit past Tandana projects. Water the fruit trees in the orchard.
Day 13
Bid farewell to friends in Kansongho, drive to Sevare, and enjoy a nice dinner.
Day 14
Visit the Mopti port and board a pinasse on the Niger River, travel upriver and sleep under the stars.
Day 15
Continue the pinasse trip to Diafarabe, drive to Segou.
Day 16
Drive to Bamako, final dinner, depart on late flight.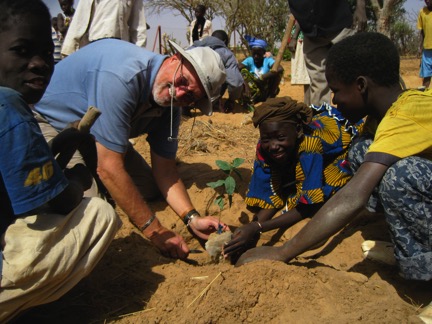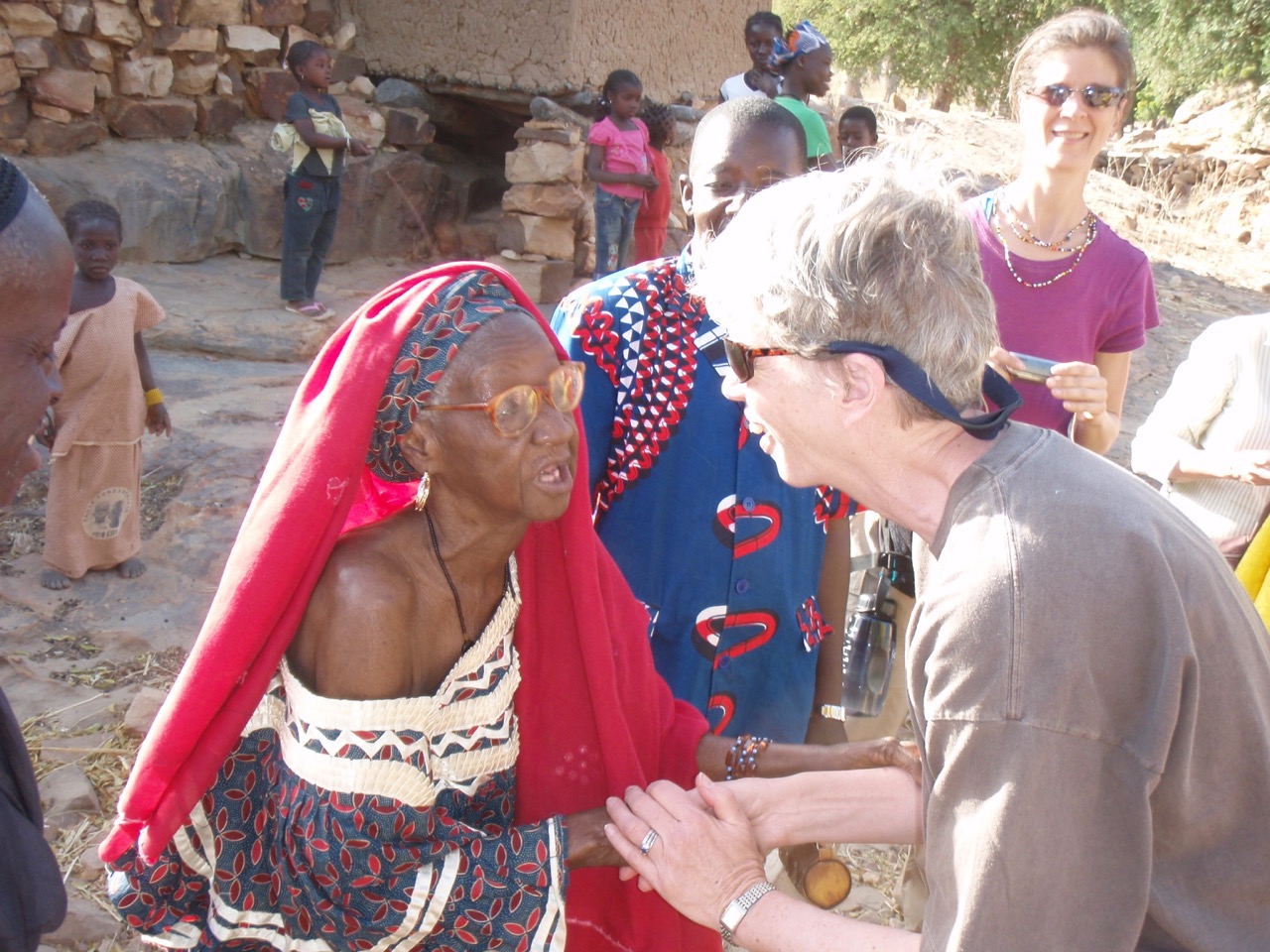 Mali Volunteer Venture Frequently Asked Questions
Why are the Mali Volunteer Ventures on hold?
We're on hold due to concern for the security of foreigners traveling in Mali at this time. Our local staff in Mali are native to the area, so thankfully they are safe and well, as are all the villagers we work with.
When will the volunteer trips resume?
You are not the only ones asking! Our friends in Mali frequently ask when the next volunteer group will visit and are anxious to host us again. Be sure that we will schedule the next Mali Volunteer Venture as soon as the State Department lifts the travel warning for US citizens in Mali. As much as we are all itching to resume, safety is vital.
What's happening with the projects started by previous volunteers?
Our projects are carrying on with great success thanks to the leadership of our local staff. We are in close contact with them and continue to support many important initiatives there. You can visit our "What We Do" page to see our current and past activities. But never fear, there will be plenty more to do when you get there.
The people of Bandiagara District never fail to provide a warm and unique welcome for The Tandana Foundation. With an enthusiastic community effort, villagers greet their new friends with rifle displays, drumming, chanting, dancing, skits and speeches—and from the very first "hello," Tandana volunteers feel right at home.
Located near the eastern border of Mali, the Bandiagara District, designated a
UNESCO World Heritage Site, is home to about 350,000 Dogon people, as well as a large number of Peuls (Fulani) and Bambara. The agriculture of the Dogon people is primarily subsistence farming, with a focus on millet, sorghum, and peanuts. Onions are also grown where water is available and then sold at markets. Despite strong influences from Islam, French colonization, and Christianity, the Dogon people retain many of their traditional ways of life and shared cultural heritage, including crafts such as masks, sculptures, and dyes, done with both indigo and mud techniques, as well as many festivals and ancient dances. The daily life of the Dogon people is one of hard work—walking miles for firewood, drawing water from deep wells by hand and breaking stones from the bedrock for construction projects. Their struggle to meet their needs in this arid land motivates villagers to undertake projects to improve their situation and seems to deepen their joy in celebrating their accomplishments and new friendships.